Third postponement of the 20th WCNDT
The Organizing Committee of the 20

th

World Conference on Non-Destructive Testing (20

th

WCNDT) has now decided to reschedule the conference as follows. We are not considering a virtual format as an option for the 20

th

WCNDT and the health and safety of everyone participating in the conference shall be the top priority.

The new conference dates:

May 30 ~ June 3, 2022

Songdo Convensia, Incheon, Korea

(The venue remains the same.)

We deeply regret any inconvenience caused by the change of dates for the third time. However, the Organizing Committee of the 20

th

WCNDT strongly believes that a postponement to June 2022 would ensure a most fruitful and successful conference program while allowing as many delegates as possible to attend from around the world. In fact, the new dates are very close to the original dates of the 13

th

ECNDT, which has already been postponed to July 3-7, 2023. Although the situation with COVID-19 pandemic is still fluid due to the problems such as the resurgence of the virus variants, we also hope the conditions for international travels could be improved by increasing vaccination worldwide. We truly appreciate your patience and support over the years as the conference has been postponed and many details kept changing due to the COVID-19 outbreak.

Most importantly, all paid registrations, already accepted abstracts, contracts for exhibition and sponsorship will remain valid for the new dates. The "

Important Dates

" have been updated in accordance with the new conference dates so that the additional submission of abstracts becomes possible.

In the meantime, if you would like to find out a few important facts about the 20th WCNDT quickly, please check the Frequently Asked Questions

(FAQs)

attached below. The official website of the 20th WCNDT will be re-opened shortly, as early as in August 2021, which will include the abstract submission page.

We are so much grateful to our speakers, sponsors, exhibitors, and all other participants for their generous understanding and patience about this unprecedented situation. Hopefully, this postponement shall be the last one but the challenges with safety and the availability of travel worldwide will be all subjected to the developing situation regarding the COVID-19 pandemic.

We would like to cordially ask for your continued interest and participation in the 20

th

WCNDT and look forward to seeing you all in June 2022.

Organizing Committee of the 20th WCNDT
Important Dates
■ Abstract Submission :
31 October 2021
■ Notification of Abstract Acceptance :
30 November 2021
■ Submission of Camera-ready Abstract (Mandatory) :
31 January 2022
■ Submission of Extended Abstract or Paper* (Optional) :
31 January 2022
*For the Conference proceedings (NOT for the SCIE journal submission)

■ Registration and Payment of Presenting Authors :

31 January 2022

■ Preliminary Program :

28 February 2022



The 20th WCNDT Postponement FAQs
▶ Registration

1. Will early-bird registration be extended?

The deadline for early-bird registration for a reduced fee has been extended to 31 January 2022. More details about the registration will be announced as soon as the online registration system is activated.

▶Conference

1. Will my abstract still be accepted to present on rescheduled conference dates?

All accepted abstracts, which are already registered for the 20th WCNDT, will be offered the opportunity to present in the same format as currently confirmed at the rescheduled conference.

Please complete the registration by 31 January 2022, if you have not yet registered your accepted abstract.
Due to the limited number of slots available for oral presentation, if registration is not completed by that date, acceptance of the oral presentation may be canceled and the abstract may be relocated to the poster presentation.

Please note that if you need to withdraw your intent to present, however, you should notify the conference secretariat via e-mail (conference@wcndt2020.com) to request the cancellation of your abstract submission.

2. When is the new Call for Papers deadline?

The new deadline to submit your abstract(s) is 31 October 2021. Authors who fall under the following will be notified whether they have been accepted or not via email on 30 November 2021.

· Authors who first submitted the abstract
· Authors who have submitted abstracts after the second postponement but have not yet received a notification email
· Authors who withdraw their existing accepted abstract and re-submit abstract to the new submission deadline
· Authors who have already been accepted but have changed the conference topic during the new submission deadline. (Please refer to 'Q3' below for more detailed information.)

3. I want to modify an abstract that has already been accepted. Is it possible?

You can modify the abstract including title, contents, author information other than conference topics until the due date of camera-ready abstract submission. However, please be aware that in case you would amend the conference topics, your abstract has to be gone through review again even if the abstracts have already been accepted.

4. I have already submitted the Camera-ready Abstract. Do I need to re-submit this?

If you wish to present your abstract at the conference as planned, you do not need to submit a new version of the camera-ready abstract as your submission will be rolled over and applied to the rescheduled conference. If you want to modify your camera-ready abstract, you are able to modify it in keeping with the updated due date.

5. Will the deadline for the submission of the camera-ready abstract, the extended abstract or paper and registration be extended?

The deadline will be extended. The deadline for submission of camera-ready abstract, the extended abstract or paper, and registration is 31 January 2022. Any submission you have made for your abstract won't be lost as we will be using the same online submission system.

6. Will new abstract submissions be accepted for the rescheduled conference?

YES, as the conference is postponed, the number of abstracts canceled and maintained should be checked and may then go with a call for additional abstracts to fill the vacant spots in the program.

▶ Exhibition/Sponsorship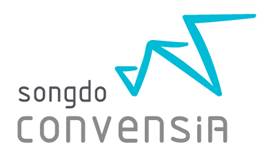 Songdo Convensia is located in Incheon, an international city directly adjacent to Seoul.
Songdo Convensia has all the necessary elements of a world-class convention destination, including easy accessibility from Incheon International Airport, adequate tourism resources, high-quality hotels (5-star, walkable) and restaurants, and the existence of an active support network consisting of both public and private organizations.
Newly expanded two years ago, Songndo Convensia is now equipped with a state-of-the-art ubiquitous system, making it an ideal place for exhibitions and conferences.
Songdo & Vicinity
Facility Guide (VR)